AirMessage has become an incredible product that has helped connect people all around the world. From its humble beginnings as a closed beta on Google+ to reaching 100K downloads on the Google Play Store, the project has evolved at a very rapid pace.
At the same time, we saw potential to grow in a variety of different areas. Today, we're introducing in some major changes to bring AirMessage to the next level.
AirMessage for web
We're pleased to announce that we've been able to fulfill a longtime request from AirMessage users - AirMessage for web enables users to connect from any internet-enabled device, whether it be a Windows PC, Linux computer, or Chromebook.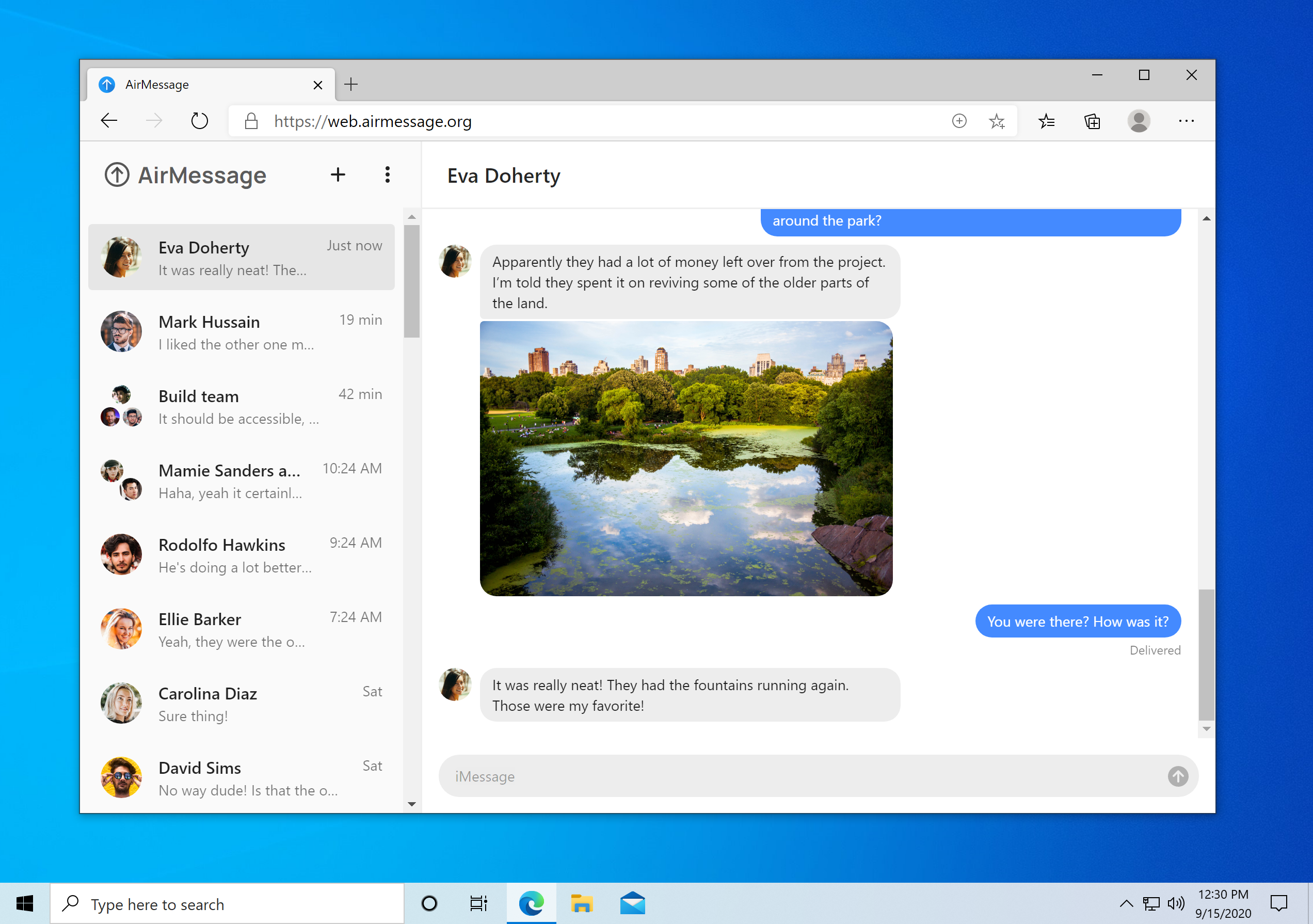 Rebuilt from the ground up with desktop-first in mind, we've taken the clean and familiar interface you're used to with AirMessage for Android, and have brought it to the big screen. With Google Contacts integration, desktop notifications, a dark theme, and an installable shortcut, we've made sure that you won't miss a beat.
AirMessage for web is available at web.airmessage.org for enrolled users (more details on that later). Please take it for a spin and tell us what you think!
AirMessage Connect (sign in with Google)
While AirMessage is great, there's no denying that its setup process can be daunting, especially for newcomers. As such, we'll be launching a new online service called AirMessage Connect.
With the help of AirMessage Connect, AirMessage's setup process is dramatically simplified. Sign in with your Google account on your Mac, Android phone, or browser, and you'll be good to go - no more port forwarding, firewall rules, or dynamic DNS!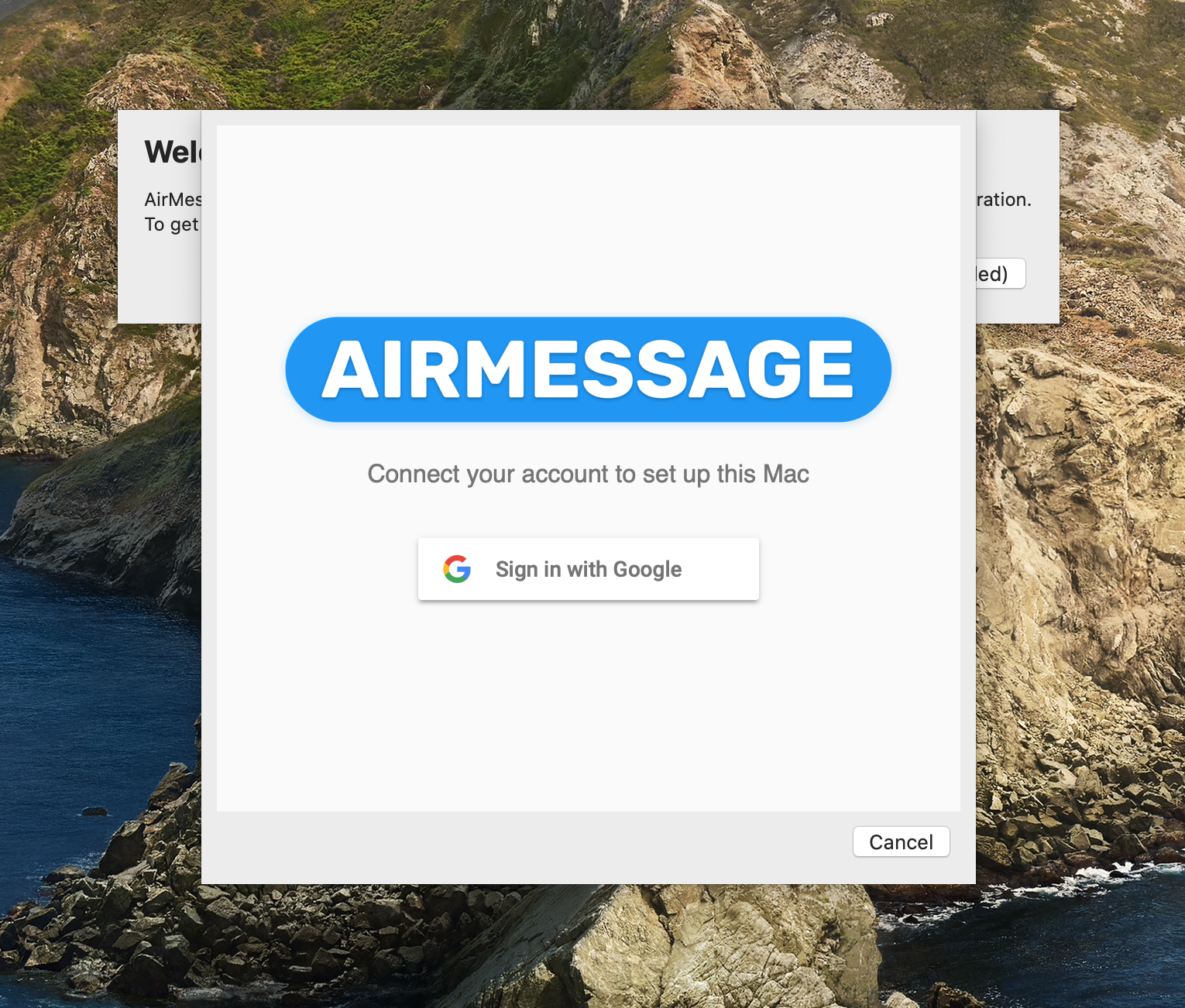 In technical terms, AirMessage Connect is a custom reverse-proxy solution that connects AirMessage Server to your phone or web browser. All communications are encrypted over TLS, and AirMessage Connect does not access any proxied information.
If you're not interested in using AirMessage Connect, you should be happy to hear that we have no plans to remove AirMessage's support for direct connections. All future versions of AirMessage for Android will continue to support direct connections, and we will continue to maintain and update this functionality.
AirMessage for Android
We can't forget what's at our heart, AirMessage for Android.
If you open the app for the first time, you'll notice a completely redesigned onboarding experience. Sign-in buttons are placed front and center to get you messaging as soon as possible, and the manual connection configuration screen has been reworked to show both the main server address and fallback address fields at the same time, as well as provide better feedback for troubleshooting.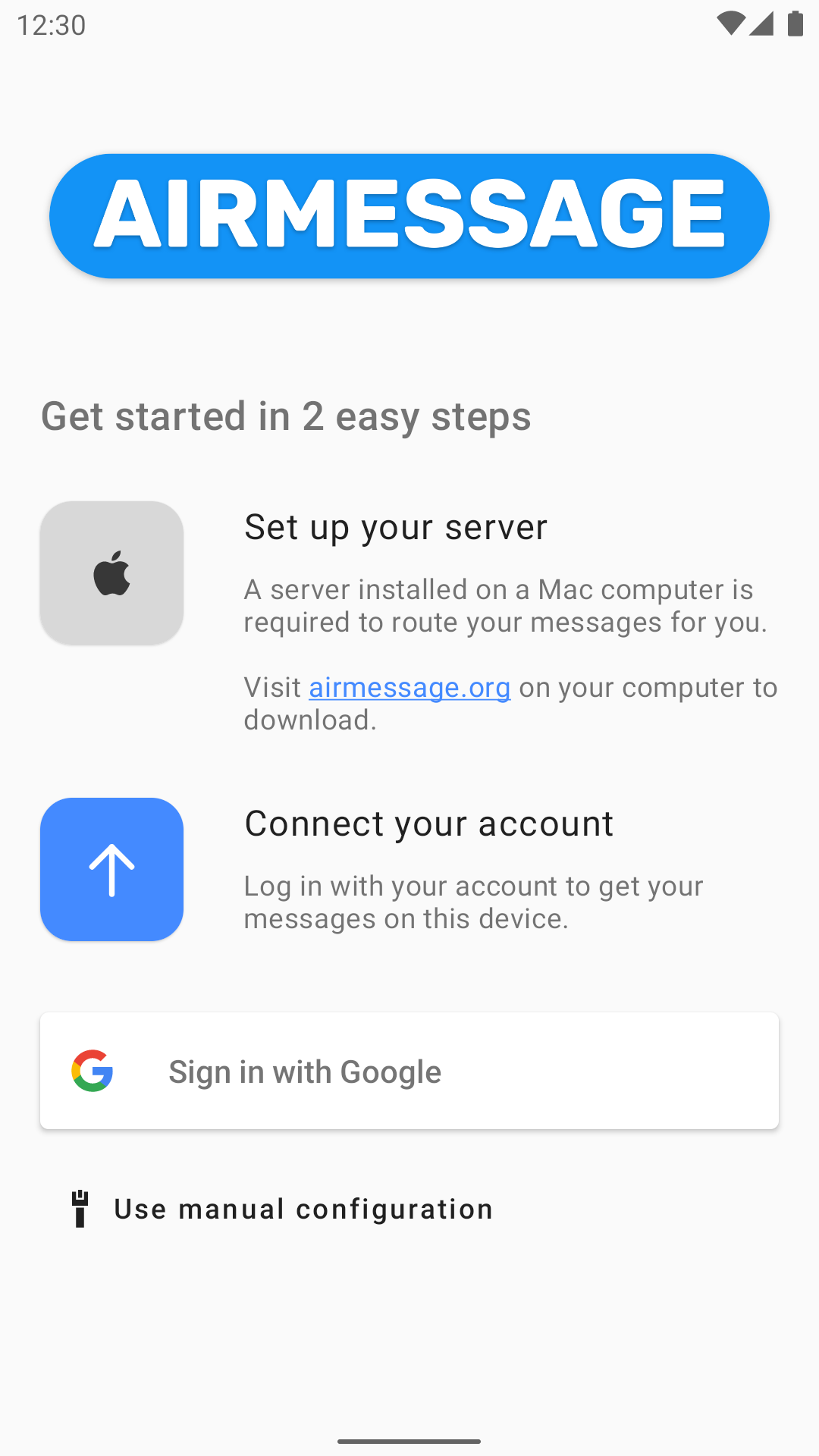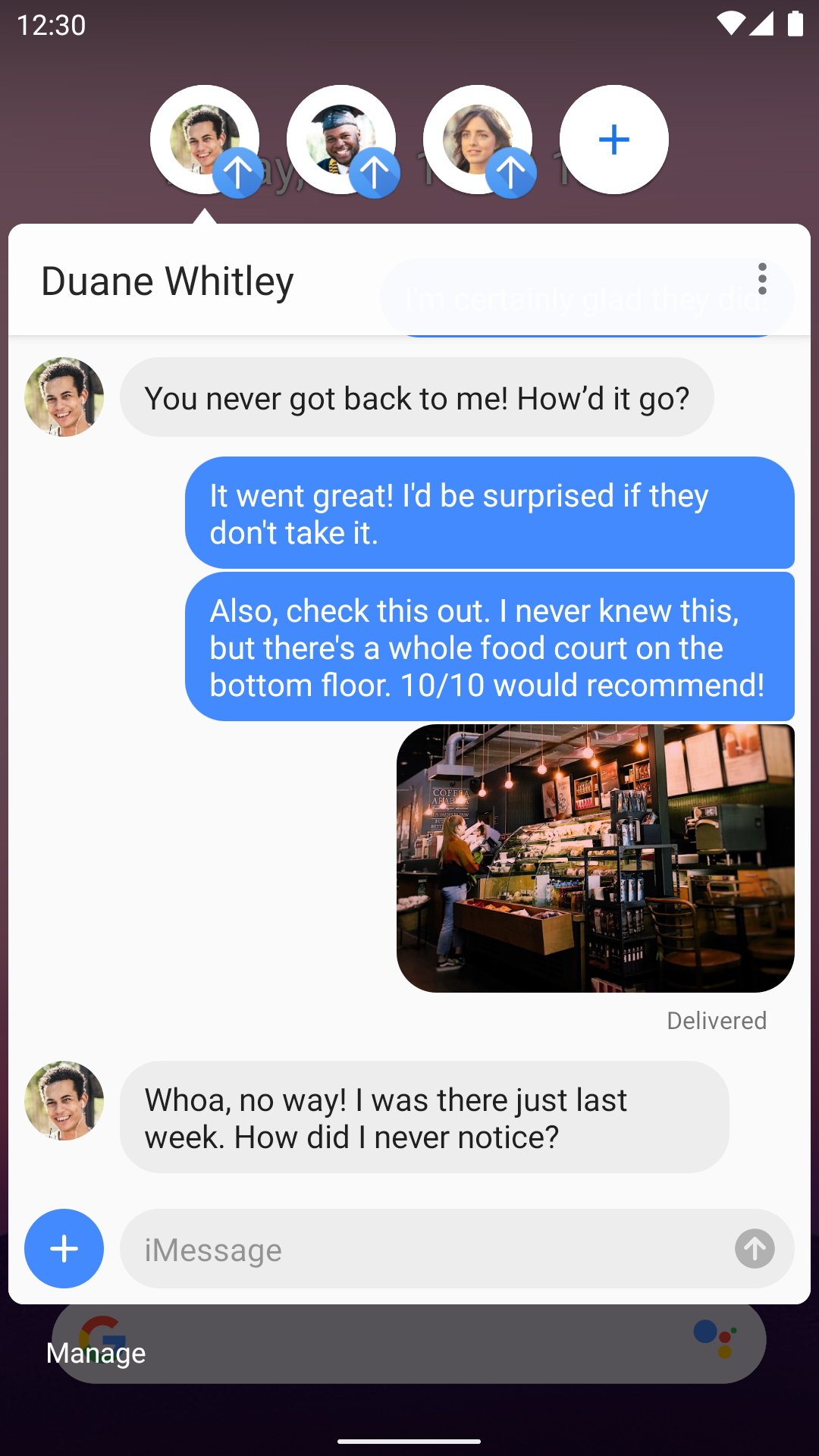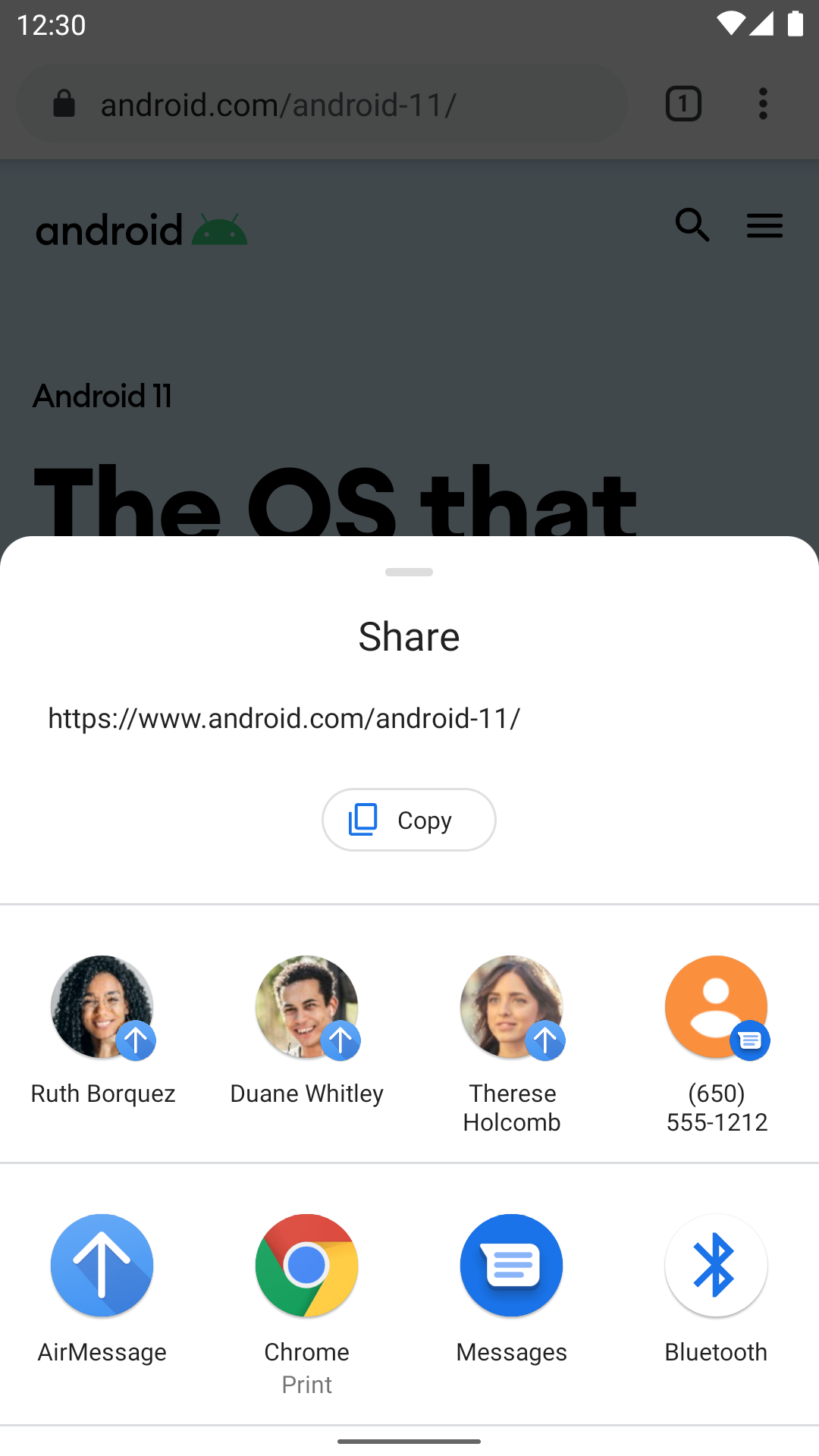 Of course, for all of you lucky Pixel owners out there, AirMessage now supports Android 11. All conversations are now registered with the system, allowing you to prioritize and silence different threads and float them in bubbles above other apps.
If you're stuck on Android 10 for the time being, there's still something new for you to enjoy. AirMessage now supports Android's direct share targets, meaning less time navigating through menus, and more time sharing cat GIFs.
We've also got a few smaller changes, just to make your experience that much better:
Support for Android 11 keyboard transitions
Support for large sticker files
Server system version information is now included in feedback reports
AirMessage Server
While not as dramatic as some of the other components, AirMessage Server still has its fair share of updates.
The app itself has undergone a lot of under-the-hood changes and improvements. Running the latest version of Java with a new packager, AirMessage Server should deliver better performance and stability, all while shipping in a smaller download size. We've also worked hard to improve security both over the wire and on your Mac, making it harder for any malicious code to gain access to your messages.
On the user-facing side of things, the app now supports macOS' dark theme, and is more strict with passwords when setting up for a manual connection.

Communications protocol
AirMessage Server, AirMessage for Android, and AirMessage for web are all being updated to support the latest version of AirMessage's communications protocol, version 5. Here's what's new:
Security improvements
AirMessage for web support
Support for subject lines in messages
Device information for each connected device
Sticker compatibility improvements
AirMessage and open source
Many users have asked us about open-sourcing AirMessage, and I think that it's about time that we address that. With the public release of AirMessage Cloud, we will be open-sourcing AirMessage Server, AirMessage for Android, and AirMessage for web.
As AirMessage continues to play a key role in the lives of more and more users, we think that it's important to embrace the open-source community. Anyone will be able to inspect AirMessage's source code, as well as propose changes to improve security or add new features to AirMessage. We can't wait to see what you'll do with it!
Try AirMessage Cloud today!
We're making AirMessage Cloud available to a limited group of users as an early access program. If you're interested in trying it out, please visit the new AirMessage Cloud registration page to register for the program and for instructions on getting started with the new versions of the software.
Otherwise, sit tight as we'll be releasing AirMessage Cloud to all users in the coming months.